The perfect combination of  competition and excitement
Waco's Premiere Axe Throwing Venue
Veteran Owned & Waco Born Business
(that aren't a pain in the axe)
1 Hour – $20/person
2 Hours – $35/person
Groups of  7 and larger get a discount! (during normal operational hours only)
Students
Educators
Military
First Responders
Front Line Workers
(for axe-ceptional timing)
Call for reservations of 8 or more people
"Absolutely the best place in town. Tried another spot and the staff was so so but we came here and everybody was super friendly and we had an amazing time. Great for a date night or family fun. Axe Lord Tom was the man and helped us patiently until we were all killing it. Two thumbs up. Two axes up! 10/10 Will be back regularly."
"I had an amazing time at Waco axe throwing. It was my first time going and I waa fortunate enough to meet the owners Thomas and Kristi! They were so easy going, kind and patient. I had a blast and I would definitely go back again!!!"
"Will definitely recommend this place to everyone! It is locally owned by a veteran who engages with everyone. You can bring your entire family or bring your friends and a cooler filled with beers. Went with another couple and participated in nice and fun games that they created. Shop locally as they are giving back to the community!"
"I brought my husband here for a mid week date. We had an absolute blast and will definitely be returning. The owners made us feel like we'd been friends for years. The vibe was very relaxed and fun and the byob with free ice was a huge bonus! Thanks for a great time guys, we'll see ya again soon."
"Best place for axe throwing in Waco! They support first responders which makes them top of my list already, but they also have the best instructors and relaxed atmosphere. There's no way to not have fun when you're here."
"Waco Axe company is an amazing experience! The workers/coaches are very friendly and helpful and honestly you can't have much more fun than when you're throwing axes!"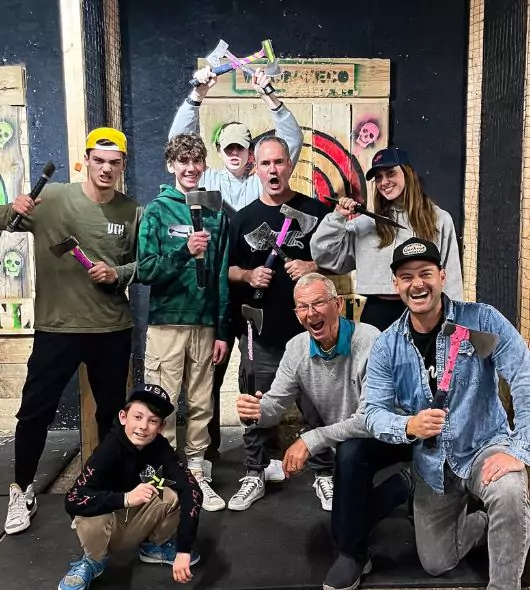 All you have to do is come and have fun, we capture the moments and make them last forever
FREQUENTLY
ASKED QUESTIONS
If bowling, darts and axes had a baby, it would be axe throwing! People will throw axes, either one handed or 2 handed, towards a target. They will be awarded points based on where they landed on the target!
Is axe throwing safe?
Yes! As long as you are following the safety rules. Like most sports there is a chance for injury (although unlikely). Our coaches and staff are trained to keep you as safe as possible throughout your experience as well as make sure you have a great time.
What should we wear or bring with us?
You will need to bring/wear closed toed shoes in order to participate in axe throwing. You won't need to bring anything else specific. We will provide the axes and the fun!
Will you teach us how to throw?
Absolutely! You will have a coach that is with you the entire time to make sure you have a safe and fun time. They will help you improve your throwing skills while also facilitating games throughout the experience!
Who can throw?
Our only restriction is age. Throwers must be at least 13 years old. We can work with any skill level, strength or ability! All ages welcome inside to cheer on throwers.